We help agencies distribute well-substantiated, factual information to the right audiences.
Many of AlphaVu's customers are public agencies responsible for informing citizens about what will appear on an upcoming ballot. For this work to be successful it's essential agencies communicate with all citizens and distribute only well-substantiated, factual information.
Agencies must also be good stewards of taxpayer funds by only distributing information to the relevant audiences while using messages and targeting strategies that get the most information to the most people.
AlphaVu builds and deploys technologies and methodologies proven successful for agencies operating in this complex and fast-paced environment.
Proven Results Using AlphaVu's Technology, Consulting, and Methodologies
Capitol Metro's Project Connect
Funding Plan for Public Transit
Project:
AlphaVu analytics and targeting helped Capital Metro distribute information to the public about Project Connect, a funding plan for a major expansion of public transit in Austin, Texas.
Outcome:
Engagement with the agency and positivity towards its agency and CEO brands were measurably and sustainably higher after the public's overwhelming vote of confidence than before.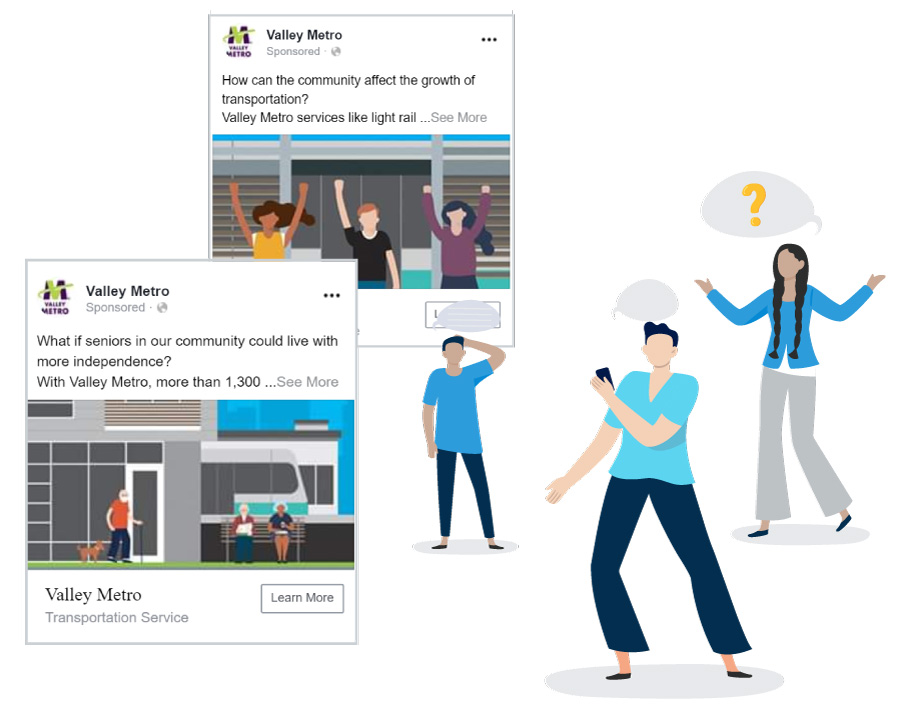 Transit Funding and Construction
Project:
AlphaVu analytics helped Valley Metro in Phoenix maneuver a complex public information environment during a ballot initiative to defund transit. As a public agency, Valley Metro had a legal and ethical obligation to only distribute factual information amidst a significant amount of misinformation propagated from outside sources.
Outcome:
Measurement clearly indicated factual information was actually a significant factor in the public's eventual support for ongoing transit funding and construction.
Do you have a ballot initiative in the future?
One of our AlphaVu team members will give you a look at how our real-time data and tools can help you.